There are two chronic pain condition at elbow joint, first is tennis elbow (also known as a lateral epicondylitis) and another is golfers elbow (known as a medial epicondylitis). Tennis elbow is 5 times more common than golfers elbow.
Tennis elbow
Lateral epicondylitis, also known as "Tennis Elbow", is the most common overuse syndrome in the elbow. It is a tendinopathy injury involving the extensor muscles of the forearm. These muscles originate on the lateral epicondylar region of the distal humerus. In a lot of cases, the insertion of the extensor carpi radialis brevis is involved.
It should be remembered that only 5% of people suffering from tennis elbow relate the injury to tennis! Contractile overloads that chronically stress the tendon near the attachment on the humerus are the primary cause of epicondylitis. It occurs often in repetitive upper extremity activities such as computer use, heavy lifting, forceful forearm pronation and supination, and repetitive vibration. Despite the name you will also commonly see this chronic condition in other sports such as squash, badminton, baseball, swimming and field throwing events. People with repetitive one-sides movements in their jobs such as electricians, carpenters, gardeners , desk bound jobs also commonly present with this condition.
Etiology
Lateral epicondylitis is classified as an overuse injury that may result in hyaline degeneration of the origin of the extensor tendon. Overuse of the muscles and tendons of the forearm and elbow together with repetitive contractions or manual tasks can put too much strain on the elbow tendons. These contractions or manual tasks require manipulation of the hand that causes maladaptions in tendon structure that lead to pain over the lateral epicondyle. Mostly, the pain is located anterior and distal from the lateral epicondyle.
Epicondylitis occurs at least five times more often and predominantly occurs on the lateral rather than on the medial aspect of the joint, with a 4:1 to 7:1 ratio. It affects 1-3% of the population, with those 35-50 years old most commonly being affected. If a patient is <35 , it is important to consider differential diagnosis (growth plate disorder, referral from the cervical spine. If a patient is >50, consider OA, referred cervical spine pain. In a study by Nirschl, 1973, of 200 tennis players aged >30, 50% had symptoms of tennis elbow at some stage.
This injury is often work-related, any activity involving wrist extension, pronation or supination during manual labour, housework and hobbies are considered as important causal factors. Lateral epicondylitis is equally common in both sexes. Between the ages of 30-50 years the disease is most prevalent. Obtaining of the condition at the both lateral epicondyle is rare, the dominant arm has the greatest chance of the occurrence of lateral epicondylitis. Twenty percent of cases persist for more than a year.
A systematic review identified 3 risk factors: handling tools heavier than 1 kg, handling loads heavier than 20 kg at least 10 times per day, and repetitive movements for more than 2 hours per day. Other risk factors are overuse, repetitive movements, training errors, misalignments, flexibility problems, ageing, poor circulation, strength deficits or muscle imbalance and psychological factors.
Symptoms
The most prominent symptom of epicondylitis lateralis is pain, this pain can be produced by palpation on the extensor muscles origin on the lateral epicondyle. The pain can radiate upwards along the upper arm and downwards along the outside of the forearm and in rare cases even to the third and fourth fingers. Furthermore it is also often seen that the flexibility and strength in the wrist extensor and posterior shoulder muscles are deficient.
There are four stages on the development of this injury with regard to the intensity of the symptoms.
1. Faint pain a couple of hours after the provoking activity.
2. Pain at the end of or immediately after the provoking activity.
3. Pain during the provoking activity, which intensifies after ceasing that activity.
4. Constant pain, which prohibits any activity.
Furthermore it is also often seen that the flexibility and strength in the wrist extensor and posterior shoulder muscles are deficient. At least patients report weakness in their grip strength or difficulty carrying objects in their hand, especially with the elbow extended. This weakness is due to finger extensor and supinator weakness. Some people have a sense of paralysis but this is rare.
Symptoms last, on average, from 2 weeks to 2 years. 89% of the patients recover within 1 year without any treatment except perhaps avoidance of the painful movements .
Examination
The diagnosis of lateral epicondylitis is substantiated by tenderness over the ECRB or common extensor origin. By the following methods, the therapist or physiotherapist should be able to reproduce the typical pain:
Cozen's test: Cozen's test is also known as the resisted wrist extension test. The elbow is stabilized in 90° flexion. The therapist palpates the lateral epicondyle and the other hand positions the patient's hand into radial deviation and forarm pronation. Then the patient is asked to resist wrist extension. The test is positive if the patient experiences a sharp, sudden, severe pain over the lateral epicondyle.
Chair test: The patient grasps the back of the chair while standing behind it and attempts to lift the chair by using a three finger pinch (thumb, index long fingers) and the elbow fully extended. The test is positive when pain occurs at the lateral epicondyle.
Mill's Test: The patient is seated with the upper extremity relaxed at side and the elbow extended. The examiner passively stretches the wrist in flexion and pronation. Pain at the lateral epicondyle or proximal musculotendinous junction of wrist extensors is positive for lateral epicondylitis.
Non surgical treatment
Approximately 80% to 95% of patients have success with nonsurgical treatment.
Rest. The first step toward recovery is to give your arm proper rest. This means that you will have to stop or decrease participation in sports, heavy work activities, and other activities that cause painful symptoms for several weeks.
Medications. Acetaminophen or anti-inflammatory medications (such as ibuprofen) may be taken to help reduce pain and swelling
Physical therapy. Specific exercises are helpful for strengthening the muscles of the forearm. Your therapist may also perform ultrasound, ice massage, or muscle-stimulating techniques to improve muscle healing.
Brace. Using a brace centered over the back of your forearm may also help relieve symptoms of tennis elbow. This can reduce symptoms by resting the muscles and tendons.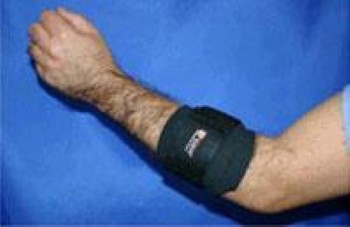 Counterforce brace.
Steroid injections. Steroids, such as cortisone, are very effective anti-inflammatory medicines. Your doctor may decide to inject the painful area around your lateral epicondyle with a steroid to relieve your symptoms.
Platelet-rich plasma. Platelet-rich plasma (PRP) is a biological treatment designed to improve the biologic environment of the tissue. This involves obtaining a small sample of blood from the arm and centrifuging it (spinning it) to obtain platelets from the solution. Platelets are known for their high concentration of growth factors, which can be injected into the affected area. While some studies about the effectiveness of PRP have been inconclusive, others have shown promising results.
Extracorporeal shock wave therapy. Shock wave therapy sends sound waves to the elbow. These sound waves create "microtrauma" that promotes the body's natural healing processes. Shock wave therapy is considered experimental by many doctors, but some sources show it can be effective.
Equipment check.If you participate in a racquet sport, your doctor may encourage you to have your equipment checked for proper fit. Stiffer racquets and looser-strung racquets often can reduce the stress on the forearm, which means that the forearm muscles do not have to work as hard. If you use an oversized racquet, changing to a smaller head may help prevent symptoms from recurring.
Tennis elbow embolization-New way to treat this disease
This treatment is first reported by dr yuji okuno , interventional radiologist from japan. He demonstrated that chronic inflammatory process is going on near lateral epicondyle of humerus. So if selective angiography done than hypervascularity visible in this area. If this hypervascularity is targeted & embolize this vessle than inflammatory markers not released at local site & entire chronic inflammatory process stops . It leads to reduction of pain & improve quality of life.
Research paper link
https://pubmed.ncbi.nlm.nih.gov/28734535/
https://link.springer.com/article/10.1007%2Fs00270-021-02878-2
https://link.springer.com/epdf/10.1007/s00270-021-02878-2?sharing_token=rSpN4pih1M55882GtKPt7fe4RwlQNchNByi7wbcMAY7jGjvVSmdRfcGQH3ocoGIEkc3IvzeEa68ByEvUm9Gorsuhgg6v3WYG-yCrSZpTxNyf73-jsxpqHcduxIZ1LbdPcXtcgpDOoeId5D-QdRZKjHZ7fGVSGTZrR_3H8gcjnkE%3D
tennis elbow treatment, best treatment for tennis elbow, best treatment for elbow joint pain, best treatment for golfers elbow, tennis elbow, how to get rid of tennis elbow pain, best treatment for tennis elbow in india, best treatment for tennis elbow in ahmedabad, best treatment for tennis elbow in gujarat, tennis elbow treatment, best treatment for tennis elbow, best treatment for elbow joint pain, best treatment for golfers elbow, tennis elbow, how to get rid of tennis elbow pain, best treatment for tennis elbow in india, best treatment for tennis elbow in ahmedabad, best treatment for tennis elbow in gujarat, tennis elbow treatment, best treatment for tennis elbow, best treatment for elbow joint pain, best treatment for golfers elbow, tennis elbow, how to get rid of tennis elbow pain, best treatment for tennis elbow in india, best treatment for tennis elbow in ahmedabad, best treatment for tennis elbow in gujarat, tennis elbow treatment, best treatment for tennis elbow, best treatment for elbow joint pain, best treatment for golfers elbow, tennis elbow, how to get rid of tennis elbow pain, best treatment for tennis elbow in india, best treatment for tennis elbow in ahmedabad, best treatment for tennis elbow in gujarat, tennis elbow treatment, best treatment for tennis elbow, best treatment for elbow joint pain, best treatment for golfers elbow, tennis elbow, how to get rid of tennis elbow pain, best treatment for tennis elbow in india, best treatment for tennis elbow in ahmedabad, best treatment for tennis elbow in gujarat,